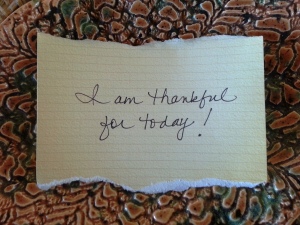 A dear person dies suddenly of unknown causes. A request is rejected. The scale lies about self-worth. Test results seem to take forever. The daily calendar shows more of a need for approval and flurry than living authentically.
At some point, after many days of such happenings, I begin to believe the lies I tell myself.
 "I am not doing enough."
"I do not have enough…time, money, energy."
"I am not taking care of enough."
"I have not connected enough."
Then, as I drop a bowl of eggs all over myself, I am forced to stop and the floodgates open. My very happy Brittany spaniels come to my rescue, licking at the eggs, my tears, and anything else they can find.
 I stop…..breathe……and take notice.
My sons are laughing happily at a funny song. The crock pot is bubbling with a delicious soup my husband made this morning. My paintbrushes sit on the counter, waiting for the next inspired moment. The sun is shining…..AND, my doggies are now sitting calmly at my feet, looking up at me with their cute little eyes.
I become overwhelmed with the most incredible sense of gratitude.
I am so thankful for this moment.
"Each day comes bearing its own gifts. Untie the ribbons."
 -Ruth Ann Schabacker
What gifts do you notice in this moment today?